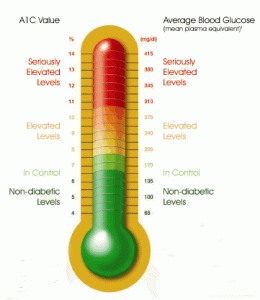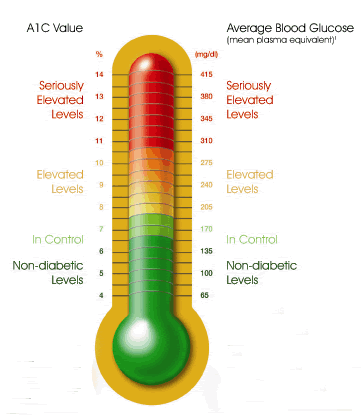 Hemoglobin A1C. When it comes to managing diabetes effectively the key is proper glucose management, and the best way to check the efficiency of the patient's glucose management regimen is with the hemoglobin a1c test. Most diabetics are familiar with checking their blood sugar by glucometer, sometimes many times daily.
The glucometer measues the level of glucose in a drop of blood which is placed on a test strip and read by the machine. Thehemoglobin a1c is also a blood test which measures the average glucose levels over a long term period.
Hemoglobin A1C. Hemoglobin is a protein based, iron containing component in red blood cells that is primarily responsible for carrying oxygen from the lungs and transferring it around the body to be used by the cells. Glucose also binds to some hemoglobin and stays bound to it for the length of the life of the red blood cells which is about 120 days. The hemoglobin a1c test measures the amount of glucose bound to the red blood cells in this manner and therefore can give the physician a very good average of the patient's average blood glucose level for as far back as the previous three to four months.
Since proper management of glucose levels is key to diabetes treatment and glucose levels should be kept as close to normal as possible twenty four hours a day, seven days a week, day and night, the hemoglobin a1c test is an invaluable aid. The diabetic patient may check their sugar many times daily, but only the hemoglobin a1c test can give and average which includes round the clock glucose levels. By using the hemoglobin a1c test the patient and physician can work together to make the type of medication, diet, and lifestyle changes which will keep the patient's blood glucose level as normal as possible as much as possible. Hemoglobin A1C.