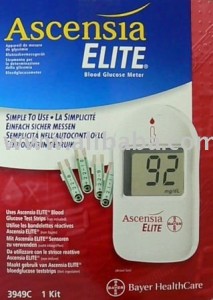 The ascensia elite glucose meter is one of the best of the new glucometers on the market. This glucometer is so small that it can be easily stowed in a pocket or purse for easy travelling, even with the test strips and lancets stored in the same little pouch. The ascensia elite is an absolute miniature when compared with the glucometers that were top of the line just a few years ago, as advancements in technology have made it small yet very fast and powerful. So powerful in fact, that it takes just the smallest amount of blood for the ascensia elite glucose meter to provide an accurate glucose reading in just a few seconds. Of course the less blood required, the thinner the lancet which can be used and the less discomfort will be experienced by the user.
Another advantage of the new glucometers like the ascensia elite glucose meter, is that they are also very fast. Not long ago the best glucometers on the market may take a full minute or more to read the blood sugar. Now it is possible to have an accurate sugar reading in just seconds, as a matter of fact, an experienced user may be able to accomplish the entire process of checking the glucose in less than a minute, including cleaning the fingertip before and putting on a band-aid afterward.
In days past a diabetic on the go may have needed to carry a little booklet everywhere they went to record glucose readings. Nowadays, modern glucose monitors have built in memories which enable them to store many readings, and this makes it easy for the diabetic to track and trend their glucose levels no matter where they go.
If you are thinking of getting a new glucometer, or if you are a newly diagnosed diabetic and about to buy your first glucometer, the new breed of tiny, quick, and almost painless, machines like the ascensia elite glucose meter can take much of the hassle out of tracking your glucose.