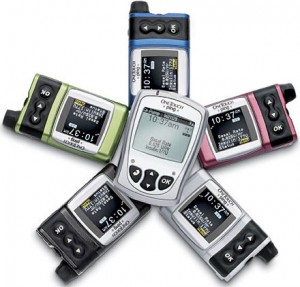 Not long ago only doctors and medical laboratories had access to glucose testing meters. Nowadays, with the enormous rise in the number of people with diabetes, glucose testing meters have become quite commonplace, and are an essential medical care device for many people. The days of big, bulky devices are gone and most of the modern glucose testing meters are so small as to fit easily in the palm of the hand and take up very little space even when packed with the needed test strips, alcohol wipes, and lancets.
Some modern meters are even made with built in USB ports so they can be hooked into a home computer so that testing data can be downloaded and tracked with just a few clicks of the mouse. Most modern meters operate off small watch-style batteries, though some are even rechargeable, and will operate for a very long time before there is any need to worry about power failure. The makers of most modern glucose testing meters have thought about the problem of sudden battery failure and have included features that will warn the user of a low battery before failure takes place.
Not only has technology made modern glucometers smaller, lighter, and more reliable, they are also faster and easier to use than ever before. Many glucose testing meters are now able to take in a drop of blood and read the glucose level in just a scant few seconds compared to the minute or more that was required by the glucometers of just a few years ago.
Some glucometers are now so sensitive that only a very small amount of blood is needed, and this greatly reduces the amount of discomfort that goes with the required needle stick, making it much less hassle for the many blood glucose checks that may be needed daily. The glucose testing meters of today are a far cry from the meters of just a few years ago, and have made keeping blood sugar levels under control easier and quicker than ever.