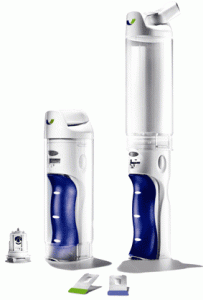 Asthmatics have long been familiar with using inhaled medications to treat their disease, but one of the newest forms of treatment for the diabetic is the diabetic inhaler. It has long been know that many medications work extremely well when inhaled into the lungs, and the diabetic inhaler uses a form of insulin that is readily absorbed by the lungs and goes quickly into the blood stream where it mediates the passage of glucose from the blood into the cell where it is uses for energy. Insulin has been in use since the 1920's and is the preferred drug of choice to help lower excessively high levels of blood glucose such as those seen in many diabetics. It is these high levels of glucose which can cause the worst effects of diabetes such as blindness, peripheral neuropathy, kidney failure, liver problems, heart problems, coma, and even death.
Traditionally insulin has been taken by the diabetic either by self administered injection or by the use of a surgically implanted insulin pump. The diabetic inhaler uses the new form of insulin called Exubera.
Exubera comes in a dry powder form and is held in a multiple dose inhaler. In order to take the medication all the diabetic has to do is place the inhaler in their mouth and pump the dose out while at the same time inhaling the medication into their lungs. This is a vast improvement over the much more invasive multiple painful injections most diabetics were being forced to take each and every day just to control their blood sugar.
If you or someone you know is a diabetic who currently uses injected insulin as a means of diabetes control, ask your doctor about Exubera. With the diabetic inhaler your next injection could be your last and you will be free from the needle forever.