Diabetes in toddlers is a serious condition which occurs when their pancreas is not producing enough insulin. Insulin is a very important hormone in transportation and absorption of glucose in an infant's body. This in turn leads to excess glucose and sugar levels in the toddler's body. Signs of diabetes in babies are hard to pinpoint because it's hard for toddlers to let their parents know that something is wrong. Therefore, as a parent you should be on the lookout for various signs that may indicate that your baby has diabetes.
Signs and Symptoms of Diabetes in Toddlers
Fatigue When a child is suffering from diabetes, sugar in their blood stream is not being converted to energy. Therefore, the baby remains constantly tired or fatigued.
Increased urination. This occurs because the child's body needs to get rid of excess glucose and sugar through urine. You will notice that your baby may be urinating more than usual or even started wetting the bed again for older babies.
Excessive thirst. Body tissues of a child suffering from undiagnosed diabetes lose a lot of fluid. This leads to the baby having excessive thirst. Some may crave for sweet, cold drinks.
Weight loss. A child with undiagnosed diabetes may experience sudden and rapid weight loss. This is because the body can't use energy from sugar thus experiencing muscle and fat loss.
Increased appetite. A diabetic child's body is deprived of energy because of the low insulin. This registers in the brain as starvation so the undiagnosed child experiences the feeling of extreme hunger so he/she tends to eat excessively.
Eyesight problems. An undiagnosed child may experience blurred vision. High blood sugar level causes fluids to be pulled from body tissues such as eye lenses. This will cause eyesight problems though a toddler may not know this because they still don't know what normal is.
Yeast infections. This may show up as a very bad diaper rash especially in girls.
Diabetic ketoacidosis. This is the buildup of ketones which are acidic by products. It happens when the body starts to burn far for energy because the child's body can't break down glucose due to low insulin.
Other advanced signs and symptoms of undiagnosed diabetes to look out for may include vomiting, stomach pains, fast breathing, rapid heart rate, low body temperature flushed face and loss of consciousness. It's also essential for parents to check for fruity breath odor. Undiagnosed diabetes in a child can also make them irritable or even exhibit quick mood changes.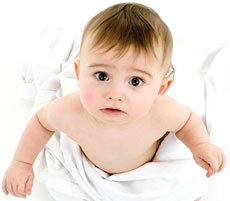 If you notice some of these symptoms in your child you should consult a doctor immediately. This is because the sooner it is diagnosed the earlier the treatment will start thus increasing the chances of your baby to live a normal, healthy life.
What is a Normal Blood Sugar Level for a Toddler?

Random blood sugar test. This is the main screening test to check whether your toddler has diabetes Type 1. A sample of blood is taken at a random time in the day, not taking into account the last time they ate. A random blood sugar level of 200 milligrams per deciliter (mg/dL), or 11.1 millimoles per liter (mmol/L), or higher suggests diabetes.


Glycated hemoglobin (A1C) test. The A1C test gives an indication of your toddler's average blood sugar level over the past few months. This test specifically measures the blood sugar percentage attached to the oxygen carrying protein in the red blood cells. An A1C level of 6.5 percent or higher on two separate tests indicates diabetes.


Fasting blood sugar test. You child will fast over night prior to this blood sample is taken. A fasting blood sugar level of 126 mg/dL (7.0 mmol/L) or higher indicates type 1 diabetes.