What Spices Help Lower Blood Sugar?
Studies show that turmeric may lower cholesterol and blood sugar, relieve pain, protect your kidneys and eyes, improve your sex life and prevent cancer. About 2 to 5% of this spice is the orange/yellow powder known as curcumin. Turmeric, which is derived from the root of Curcuma Longa (ginger family), has been used for centuries in chinese and Indian (Ayurvedic) medicine. Although turmeric tastes good especially with the right recipe, the taste usually has a bite to it. However, turmeric milk is a good option especially for people who are not curry fans. It is commonly used for improved liver function, digestion, pain relief, and for its anti-inflammatory and antioxidant properties.
What is Turmeric Milk?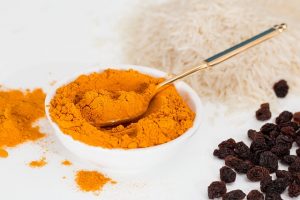 Turmeric milk (golden milk) is an infusion of fresh turmeric root or turmeric powder in milk. It is commonly used in Ayurvedic medicine for specific diseases. Besides being easy to prepare, turmeric milk is also highly palatable because the milk takes most of the spiciness (the bold flavor) out of turmeric.
Curcumin May Treat Aspects of Both Type 1 and Type 2 Diabetes
A scientific study from McGill University and the Beijing University of Chinese medicine reviewed numerous studies of Curcumin. Amazingly, studies on diabetic mice and rats show that curcumin could improve Type 2 Diabetes through at least 10 different mechanisms, including:
Reducing liver glycogen production
Reducing liver glucose production
Stimulating increased glucose uptake
Increasing activation of AMPK
Suppressing the inflammatory state induced by hyperglycemia
Improving pancreatic cell function
Increasing AKT phosphorylation
Stimulating secretion of insulin from pancreatic tissue
Promoting PPAR-gamma ligand-binding activity
Reducing insulin resistance and increasing insulin receptor β
Human clinical research conducted on pre-diabetic and diabetic patients show that curcumin has the following benefits:
Improving beta cell function
Glucose lowering effect
Improved oxidation and utilization of fatty acids
How does Turmeric Milk help Prevent or Manage Diabetes?
Let's explore the medicinal properties of turmeric milk and how they help treat and manage diabetes:
Turmeric milk Counteracts Inflammation
Turmeric milk demonstrates anti-inflammatory properties by modulating activity of various proteins. The mechanisms involved include:
Down-regulating the activity of COX-2 by suppressing nuclear factor Kappa B.
Reducing activity of proteins and enzymes that promote inflammation.
Inhibiting production of various inflammatory cytokines such as IL-1 beta, IL-6, and TNF- α
These mechanisms suppress inflammation caused by diabetes hence preventing its proliferation. According to a study published in 2014 by Biomedical and Environmental sciences, supplementation with curcuminoids leads to reduction in proteins and enzymes associated with inflammation especially in diabetic patients. Therefore, turmeric milk is a natural anti-inflammatory agent that reduces inflammation in chronic illnesses including diabetes.
Reducing oxidative stress
Oxidative stress plays a great role in the pathogenesis of the complications of diabetes and other macro and micro-vascular diseases. Oxidative stress is caused by imbalance between the body's antioxidant defenses and the overall production of ROS (Reactive Oxygen Species). Reactive Oxygen Species are chemically reactive species that contain oxygen and are vital to the normal functioning of cells in the body. However, ROS levels tend to increase drastically under adverse conditions hence causing inflammation and cell death.
Diabetes causes increased uptake of glucose in adipose tissue and endothelial cells. However under high blood sugar levels (hyperglycemic) conditions, increased glucose uptake leads to excess production of Reactive Oxygen Species which initiates inflammatory pathways, causes oxidative damage to fats and lipid peroxidation (oxidative degeneration of fats).
Turmeric scavenges ROS, increases the level of antioxidant enzymes in the body and inhibits lipid peroxidation. This antioxidant property of turmeric reduces oxidative stress which is commonly observed in diabetes. Studies in humans have proven that curcumin is a strong antioxidant that helps reduce the risk of heart diseases and oxidative stress in diabetes.
Lowering blood sugar levels
Curcumin is an anti-hyperglycemic agent (lowers elevated blood glucose levels in diabetes). A study by ghorbani et.al shows that curcumin works in different ways to lower elevated blood sugar levels. Some of these ways are:
Stimulating production of insulin
Improving the activity of pancreatic cells
Reducing inflammation
Improving insulin sensitivity
Stimulating insulin utilization by the body
Reducing insulin production by the liver
Curcumin regulates metabolic disorders by acting on and reducing Adipocyte fatty-acid binding protein.
The same research group conducted another study where overweight diabetes patients were given 300 mg curcuminoids or a placebo for three months. Curcumin reduced insulin resistance index and blood sugar supplementation. Nano-curcumin supplementation also helps in reducing triglyceride levels, blood sugar levels, BMI and even glycated hemoglobin levels.
Regenerate and repair pancreas cells
Recent experimental studies show that curcumin in turmeric milk is beneficial in auto-immune diabetes because it regulates the action of basic immune cells that destroy pancreatic beta cells that are necessary for the production of insulin. Besides helping lower blood sugar levels, studies show that curcumin also helps to repair and regenerate damages islet cells in the pancreas and this is very beneficial especially in T1D (Type 1 Diabetes).
It improves wound healing
Curcumin is a wound healing agent which speeds up the wound healing process in diabetics even when applied to wounds topically. The anti-inflammatory and antioxidant properties of curcumin help speed up impaired wound healing even in diabetic foot ulcers.
Turmeric is a natural antibacterial, antiseptic agent and a great disinfectant. Therefore, you can speed up the healing process by simply sprinkling turmeric powder on wounds. Turmeric milk helps heal wounds from the inside too.
Although curcumin offers numerous benefits for diabetes, it is rather hard for the body to absorb. Moreover, it is easily cleared from the body. Adding black pepper to turmeric milk is highly beneficial because it contains piperine which keeps curcumin in the body longer.
More Homeopathic Treatments for Diabetes.
What Spices help lower Blood Sugar.