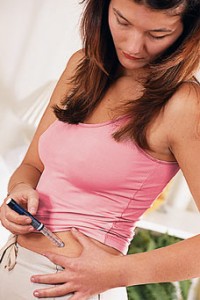 Symptoms of diabetes in women can be many, can varied, but it is important for every woman to be familiar with the symptoms of diabetes in women, especially if she has a family history of diabetes. In the present day, diagnoses for heart disease, high blood pressure and many forms of cancer are on the decline due to advances in medical knowledge as to what preventative measures can be taken.
Diabetes rates, on the other hand, continue to rise at an alarming rate, and though there is no cure for diabetes early diagnosis and treatment can help mitigate some of the worst of the disease's health effects. This makes familiarity with the symptoms of diabetes in women very important knowledge.
Before any discussion of how to recognize diabetes in women can begin it is a good idea to note that some women are subject to gestational diabetes, or diabetes during pregnancy, which usually resolves itself after the child is born and the mother's body returns to a more normal state. Type one and type two diabetes are chronic incurable, but treatable, conditions that occur with or without pregnancy.
The three classic early symptoms of diabetes in women that a woman should be on watch for are increased thirst, increased hunger, and increased urination. These symptoms manifest because the body is not correctly processing the glucose that comes from food and is needed to power the cells of the body. Along with these symptoms it is common for women who may be developing diabetes to get frequent yeast infections, extreme fatigue, weight fluctuations, and even numbness or poor circulation in the extremities.
If you or someone you know begins to develop these symptoms it is definitely time for a trip to the doctor for a fasting glucose test to ascertain whether you may be developing diabetes. The key to proper management and treatment of diabetes is early diagnosis, and this can be achieved if you are familiar with the symptoms of diabetes in women.