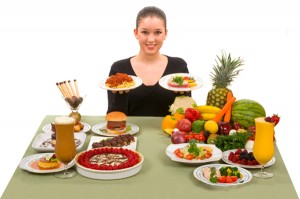 9 Top Super Foods – Type 11 Diabetes Diet
If you find yourself in the pre-diabetes category, (which is basically, higher than normal blood glucose levels, but not high enough to be classed as Diabetes type 2), and want to clean up your type 11 diabetes diet, you are going to have to make some pretty serious changes in your life to prevent the condition from blowing out into full diabetes. I am very much into healing the body with natural remedies, diet and regular exercise so today I'm going to share my "9 top Superfoods" that you should try and include into your diabetes diet on a regular basis,  to get you well on the way to a healthier you!
BLUEBERRIES
Blueberries are one of my favorites – they are one of the few foods that are naturally colored blue! They are high in vitamin K and vitamin C, fiber and manganese (vital for maintaining healthy bones and skin)
Blueberries are also high in antioxidants, and studies have shown that they may help reduce the risks of cancers, depression and anxiety – great addition to your type 11 diabetic diet.
1 cup of blueberries is equal to: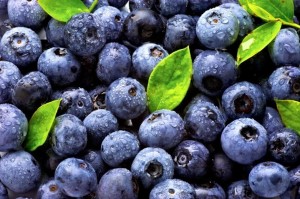 1.1 gram protein
0.5gram total fat
0.0 saturated fat
21.5grams carbs
3.6 grams fiber
And only 84 CALORIES
2. ROLLED OATS
This is my favorite breakfast cereal! – especially in the colder months. It's full of soluble fiber, which slows down the absorption of glucose and as a result, helps with keeping your blood sugar levels under control. Evidence from a review published in 'Nutrition Reviews' showed oats to help reduce cholesterol and has good antioxidant, anticancer and anti-inflammatory effects.  It's also a great source of manganese, protein, thiamine, iron, copper and zinc…..and potassium! So much goodness!
½ cup of oats is equal to:
5.3 grams protein
2.6 grams total fat
0.5 grams saturated fat
27.4 grams carbs
4.1 grams fiber
And only 153 CALORIES
3. ALMONDS
Almonds are a great snack between meals, if you are desperate for one! Make sure you eat the unsalted, raw nut. Almonds are high in vitamin E, protein, fiber, manganese, magnesium, copper, phosphorus, niacin, calcium…the list goes on!  Almonds also improve blood lipid levels (that's blood fat levels). Don't go wild…just a small handful for a snack is perfect! Awesome addition to your Type 11 diabetic diet plan.
 1 ounce is equal to:
 6.3 grams protein
15 grams total fat
1.2 grams saturated fat
5.5 grams carbs
3.3 grams fiber
And only 169 CALORIES
4. NON FAT YOGURT
  Nonfat yogurt, is an essential part of anyones diet – more so for people following a type 11 diabetes diet. In a recent 11 year study in the eastern country of Norfolk, results concluded that people who included nonfat yogurts and low fat cottage cheese, were 24% less likely to develop diabetes, compared to the people who didn't. I love the Greek yogurt – it's actually more beneficial to your health than some of the other brands, as it has twice as much protein. Whichever you prefer, just make sure that it states it contains 'live cultures'.
There are many health benefits of non or low fat yogurt – many of them are related to the GIT (gastrointestinal tract) in particular, the colon. Yogurt is a high in B6, B12, protein, calcium, potassium, magnesium, zinc, contains the friendly bacteria (probiotics) and once again, the list goes on!
 1 cup is equal to:
12.9 grams protein
3.8 grams total fat
2.5 grams saturated fat
17.3 grams carbs
0.0 grams fiber
And only 154 CALORIES
5.    QUINOA (pronounced keen-wa)
I love quinoa! It's so versatile. I make salads with it, use it in place of rice when making curries and stews. It's gluten free, so that's a plus with all the gluten intolerance around these days. Makes a great breakfast, sprinkled with ground cinnamon, or stewed blueberries. It contains a great source of B6, Protein, fiber, Manganese, Magnesium, Phosphorus, copper, iron and zinc (just to name a few!)
1 cup is equal to:
8.1 grams protein
3.6 grams total fa
0.0 grams saturated fat
39.4 grams carbs
5.2 grams fiber
And only 222 CALORIES
6.   FISH
Fresh fish have loads of great health benefits especially for diabetics, however the oily fish is the most beneficial, (like mackerel, salmon, pilchards and sardines) are so rich in omega-3 fatty acids. When cooking with sardines and pilchards, I buy the canned ones, generally combine them with some mashed sweet potato and finely chopped onion and garlic, 1 lightly beaten egg and heaps of fresh herbs (I put fresh herbs in almost everything I make!) They're even great cold, for lunch the next day.
Oily fish is an excellent source of B6, B12, E, C, protein, niacin, thiamine, selenium, phosphorus, potassium, magnesium, riboflavin, and of course, omega 3.
I'll use pilchards as an example:
3.75oz / 92 grams is equal to:  
19.1 grams protein
9.6 grams total fat
2.1 grams saturated fat
0.0 grams carbs
0.0 grams fiber
And only 168 CALORIES
7.    KALE
Surely we've all heard of Kale by now – it's everywhere! It contains twice as many antioxidants as any other green leafy vegies. This is one reason why Kale is known to be effective in helping prevent cancer and heart disease.
Kale also has a high level of lutein and zeaxanthin which has been associated with helping prevent diseases of the eyes, such as cataracts, glaucoma and macular degeneration. Another plus for Kale, is it's high level of sulphoraphane, confirmed by a 2012 study in Journal of Agriculture and Food Chemistry showing kale reduces the growth of colon cancer cells!
 1 cup is equal to: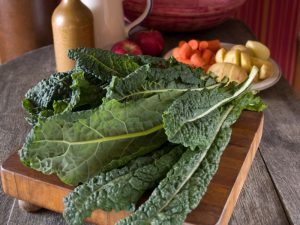 2.5 grams protein
0.5 grams total fat
0.1 grams saturated fat
7.3 grams carbs
2.6 grams fiber
And only 36 CALORIES!
8.     BEANS
Beans are a great, cheap food to include in a type 11 diabetes diet, that can be added to so many dishes, quite simply! They are Low GI (glycemic index), they contain a high level of high quality carbohydrates, protein and soluble fiber and are excellent for helping to stabilize blood glucose levels.
You can purchase canned beans, chick peas, soya beans etc for convenience, or you can purchase the dry variety from a health food store or drugstore and start from scratch. It requires soaking overnight or at least 5 hours, so you need to be a little more prepared.
To be honest, I tend to go for the canned varieties of beans – as I'm usually pushed for time. Canned beans, still hold all their nutrients, however they may contain additional sodium or salt, so you must be aware of that if you are also following a low sodium diet.
I'll use cooked black beans as an example
1 cup is equal to:
15.2 grams protein
0.9 grams total fat
0.0 grams saturated fat
40.8 grams carbs
15.0 grams fiber
And only 227 CALORIES
9.     AVOCADO
Wow! How would I cope without avocados in my life! I find myself preparing them for one thing or another, every single day! Dips – salads – my favorite raw avocado chocolate pie! (Yum) Among others benefits, avocados are an excellent source of Vitamin B6, E, K, C, fiber Potassium, Manganese, copper, magnesium. They are stacked full of antioxidants, healthy fatty acids and have definite anticancer properties, especially concerning the prostate. Great addition to your Type 2 diabetes diet menu!
 1 cup is equal to:
3 grams protein
22 grams total fat
3.2 grams saturated fat
12.8 grams carbs
10.0 grams fiber
And only 240 CALORIES
So there you have it! 9 of my favorite Super Foods to include in your type 11 diabetes diet.