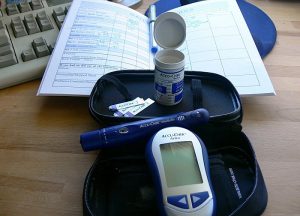 What is a diabetes home test kit? A diabetes home test kit is a kit that helps diabetics with checking and monitoring their blood glucose levels. This is great since the more controlled the blood sugar is the healthier the diabetic is.
Diabetes is completely consuming disease. When a person is diagnosed with it they now have to think about everything they do and how their diabetes may be affected or affect it. Diabetes is where the pancreas organ is not working efficiently. The pancreas is responsible for production of bile, chemicals, and a hormone called insulin.
Insulin is a very important chemical that regulates the fuel the cells have. This chemical must be in the body system. The insulin must bond with the sugar in the blood, and transform it, before the cells are able to use it. So if there is not enough insulin, the sugar in the blood is not used and starts to build up.
As the sugar builds up it reaches a dangerous level where the body starts to suffer damage. The most common systems to suffer harm are the heart, eyes, nerves, and kidneys. The worst problem is that all damage is permanent. So this makes watching your blood sugar very important and this can only be done through using a diabetes home test kit.
A diabetes home test kit includes several things. The first is the lancet. The lancet is a needle like contraption that is used to draw a blood sample. The next thing in the test kit is the test strip. The test strip is a plastic strip that has the drawn blood sample inserted into. This strip is then inserted into the glucose meter. The glucose meter Is a small handheld unit that measures the glucose In the blood sample. So now you know what a diabetes home test kit is.