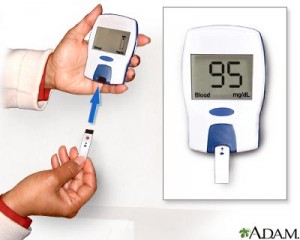 What should your blood sugar level be? Your blood sugar level is a need to know for those who have diabetes or have pre-diabetes. As diabetes ravages the world more and more people ask "What should your blood sugar level be?''. Diabetes is a disease where the body does not have sufficient amounts of insulin. Insulin is a chemical that is produced by the organ called the pancreas.
The insulin is responsible for changing the sugar in the blood into fuel that the body can use. When the insulin amounts are to low the sugar levels begin to damage the body. The damage that can be done when the sugar is to high includes heart damage, nerve damage, eye damage, and kidney damage. This makes knowing how much your blood sugar should be a need.
So what should your blood sugar level be? For a normal person it should be anywhere from 64.8 mg/dl to levels of 120.4 mg/dl. These depend on when the last meal was and the size of the meal. For diabetics the amounts of sugar in the blood can skyrocket to levels of 200 mg/dl which are very dangerous. In order to keep a steady and healthy blood sugar level you should do several things.
Talk to your doctor, he can give you the best information on how to care for your blood sugar.
Diet, talk to your doctor about a special diet. For diabetics this means eating sugar free foods, and foods that are high in dietary fiber.
Exercise, talk to your doctor about exercise. This plays a major role in containing your blood sugar. Also talk to other diabetics as they may have experience in what works best.
So now that you know what your blood sugar level should be  – what will you do to better contain it!