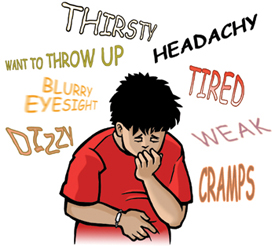 Sugar diabetes is a serious condition that changes lifestyles of both the diabetic and all who are around them, for better and for worse.
Diabetes is a condition where the body's organ known as the pancreas fails to create enough of chemical called insulin. The chemical insulin is responsible for the energy that you have as it converts the sugar molecules in the blood into fuel that the cells can use.
When the needed amounts of insulin are not present the blood sugar levels rise. Once they reach a certain level they begin to damage the body such as heart damage, nerve damage, eye damage, and the worst is kidney damage. These effects are all the more reason to spot diabetes early on, so what is a symptom of sugar diabetes?
A symptom of sugar diabetes could be one of many things. The list includes
thirst,
excessive urination,
extreme hunger, and
irritability.
If you are experiencing these symptoms, you should be checked out immediately due to the damage that can be done if left untreated.
Excessive urination is due to the body trying to cleanse itself of the overloaded sugar levels. This in turn causes you to become thirsty as your body depletes itself of water. Hunger is due to the cells not getting the required fuel and as you eat more it only increases the blood sugar level. Irritability is caused by the brain cells not getting the needed fuel. This can all be avoided if you are checked for diabetes. Your doctor can perform a few simple lab tests that will diagnose you with diabetes or not. Or you can get a blood glucose monitor and do it yourself. If it is over 120 mg/dl notify your doctor immediately.